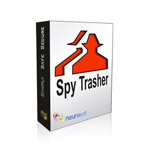 Spy Trasher
The average unprotected computer has 20 minutes survival time on the Internet if unprotected from viruses, unknown malice from spyware and adware.
"Discover How Many Spies Are Lurking Inside Your PC Just Waiting To Cause Zap Your Privacy to oblivion ..."
"Eliminate Them Instantly And Have The Peace Of Mind Knowing Your Computer Is Automatically Kept Bug Free, 24 Hours A Day!"
Protect your privacy with Spy Trasher, the #1 spyware removal solution. Don't be victimized by dangerous and unwanted spyware, identify and remove infestations safely, simply and securely...
Discover for FREE how many infestations you have on your PC.
Coming Soon in June 2007